The week that was heralded the monsoon clouds into the city. With the onset of rains, everyone seemed to be in high spirits but that didn't necessarily reflect in their sartorial choices. Instead, what we were subjected to was a melange of all sorts of horror. From Sonam Kapoor's way-too-frilly number to Urvashi Rautela's red riding hood act, we were assaulted with fashion crimes at its grisliest. But, we know, you would want proof. Trust us when we say that we are not exaggerating when it comes to how bad the attires are. Take a look, but consider yourself forewarned…
Urvashi Rautela
Don't even get us started on the horrors that Urvashi has subjected us to with this hideous outfit. We want to sue the person who allowed her to step out in that monstrosity of an outfit. And those heart-shaped glares look cute only on emojis, Urvashi. Unless you were dressing up for a Halloween party, we would expect an apology for what you wore. And while you are at it, also pay for therapy sessions for the outfit has tainted us like nothing else could.
Bhumi Pednekar
Don't know why was Bhumi Pednekar dressed like she worked for the poor man's CIA at the airport. While tattered and torn jeans are all the rage right now, Bhumi's denims are a little too distressed to be cool. They are like a brooding teenager, who acts broken to appear cool, but ends up in an institution. Not cool at all. Also why belt up a tank top, only to throw a jacket over it? And for the last time, we would like to request all celebs to lose the sunglasses at night. They are called 'sun'glasses for a reason, guys!
Disha Patani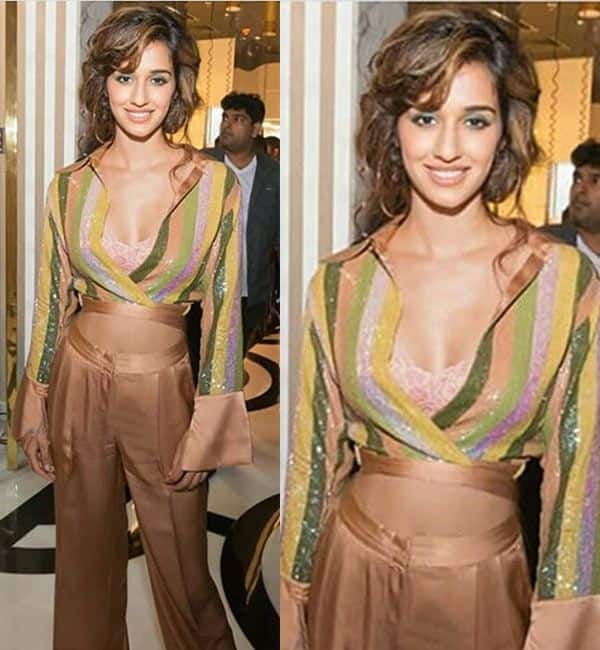 Disha Patani had enough bling on to light up an entire city for the night with her Verandah separates. The satin and glitter together was too much for our eyes to take at one glance. And don't even get us started on the lacy innerwear peeking from her top. What is such an innocent looking garment even doing in this glitzy affair? But seems like it wasn't quite enough for Disha who glammed it up further with shiny, bold hoops and sparkly green eyes. Does anyone need a disco ball, because Disha seems hell bent on doubling up as one.
Amrita Arora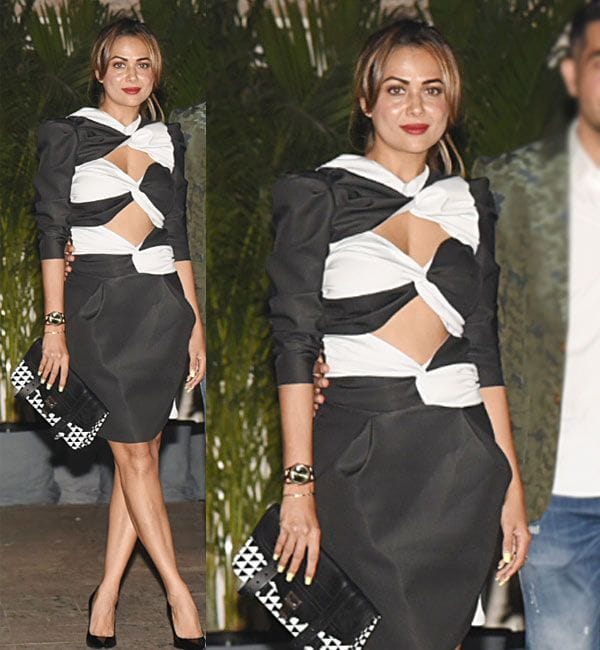 When you can stun with the basics, why try and shock with the unusual? Would you believe it if we say that Amrita Arora went wrong with the most classic combination of black-and-white. Yes, the combination, that is your safest bet for any outing, just went horribly wrong for Amrita. The knotted front looked rather funny, if not downright tacky. While otherwise the Vionnet attire seemed good enough, the knots killed it for us. Also, what's with the judicious use of bronzer on the face, Amrita?
Sonam Kapoor
No, Sonam, this is not how you do boho chic. And we expect you, of all people, to know that. While we love the wide pants, it is the voluminous frilly top that makes us want to have an audience with Sonam and tell her to get back to her fashionable self, pronto! Even the geeky glasses couldn't justify the look, no matter how much we want to believe that the actress was going for that nerdy, cool look. Just. Doesn't. Work.