We have been unhesitatingly claiming that fashion doesn't always come with a heavy price tag. Yes, it's true that some of the fashion spends in recent times by our beloved actresses have been exorbitant but that's a rare case. And it is not every time they spend a fortune on an impulse. Take their recent outings as examples. All the beautiful ladies of the tinsel town showed us how affordable fashion can look equally ravishing if done right. Katrina's sweatshirt or Deepika's simple T-shirt, both looked chic in its own way. While we loved DP's entire look, we adored the way Katrina kept it so sporty and casual at the same time. And what will be your reaction when we say you can afford the same outfits? We can already imagine you guys jumping with joy. We aren't kidding when we say that all of them fall under the Rs 10,000 category. Check out the cost of these attires below and you will thank us…
Deepika Padukone
The grey amour distressed tee from Zadig & Voltaire is basic yet looks so cool. Not just 'cos Deepika wore it. We would personally pick this basic t-shirt for a casual outing and it costs a mere Rs 7,800. Too much, we know, but for the ones who are ardent fashion followers, it is loose change.
Katrina Kaif 
The P.E. Nation Ringside Cotton Sweatshirt comes from a coveted sportswear brand. We love the colour of this sweatshirt and don't mind making it our next purchase. Wondering what the cost is? Well, you need to shell Rs 8,900 to become a proud owner of the same.
Sonam Kapoor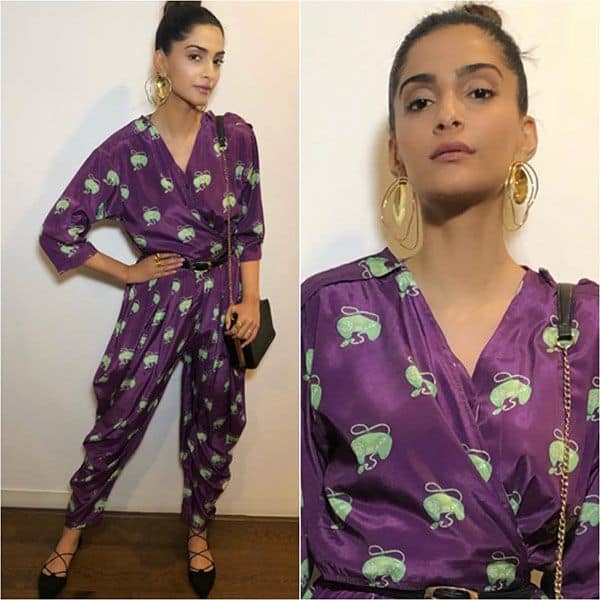 Sonam Kapoor's outing was the most affordable of them all. Probably that's because she wore it from her personal collection – Rheson. The purple surplice neck printed jumpsuit comes with a very affordable price tag of Rs 2,000.