Priyanka Chopra got engaged to Nick Jonas a few days back but videos from the event are still trending. Yesterday, we got a glimpse of how the mothers behaved at the do. Nick's mother had posted a video of her dancing with Madhu Chopra to desi beats. The video had gone viral yesterday. Later Priyanka reacted to the same and added, "Munde di maa." Clearly, the Jonas and the Chopras have become really close and comfortable. It's heartening to see that because both belong to two different cultures. A bonding of such nature is pretty rare.
In an interview with DNA, Madhu Chopra revealed how she had given up on ever seeing Priyanka getting married when Nick Jonas happened. "Priyanka has always been ambitious about her career and I was just supporting her and wishing the best for her, as a mother. I used to pester her, but in the last two-three years, I had stopped. I had given up. Yeh sab cheez ka ek time hota hai, it's all destiny." You can imagine how happy she was when it finally happened. She recalls, "I told her that I want to meet Nick's family." And guess that meeting bore rich fruits.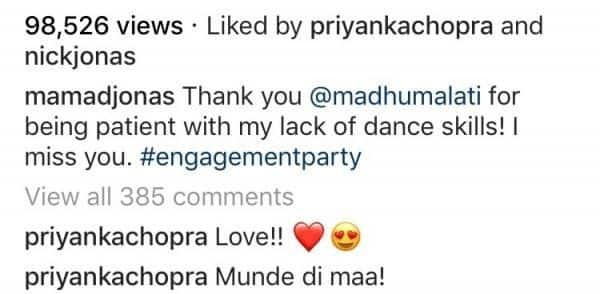 Priyanka Chopra is presently in the US along with Nick Jonas. They catch up for lunch dates and when not together, she sends him kisses!