The weather in Mumbai is only getting worse by the day. It's neither raining nor are the temperatures cooling down. All that we end up experiencing everyday is the horrible humidity that only makes you feel sick and drained. But despite the gloominess, looks like Shruti Haasan's boyfriend has no reasons to complain thanks to his sunshine girlfriend. One look at the above picture and you will know what we are trying to say. Wearing a bright yellow saree, the lover girl couldn't stop beaming as she stepped out with her boyfriend for a cosy dinner date. I mean, you would be really blind if you don't notice the glow on Shruti's face, plus the yellow saree that's only adding on to the shine.
Perhaps, it must have been some really special occasion for Shruti and Michael considering Shruti decided to step out in a saree; that too for a dinner. We don't remember ever seeing her in a saree for any outing apart from shoots or red carpets. Or you never know, what if she wanted to surprise her beau by going all desi this time?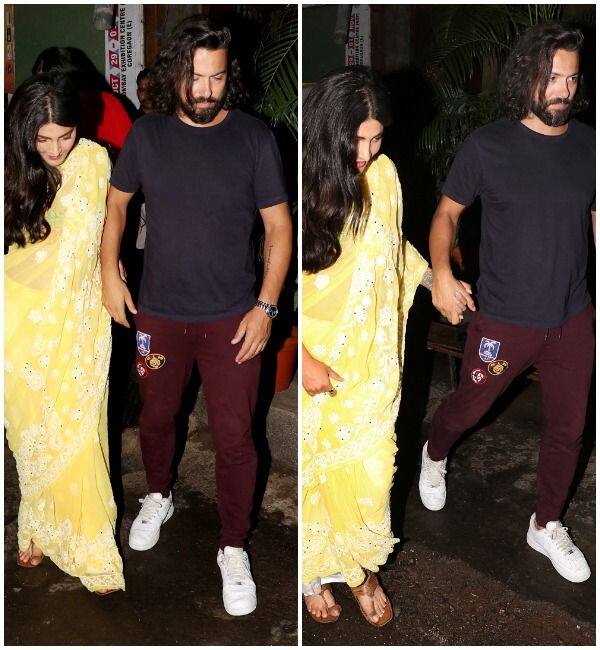 While Shruti has not made it official as yet, she did make him meet her parents and even attend a family wedding. The pictures from the do have been breaking the internet ever since. Say for that matter, she keeps gushing about her guy on Instagram every now and then. When we met Shruti and asked her if she is planning to get married anytime soon, she told us EXCLUSIVELY, "I am not getting married this year. So everybody can relax (laughs) If I am doing it, there's nothing to hide. But it's just that I am not doing it right now." Let's see what's in store for this cutesy couple. Until then, keep watching this space for more updates.