Neither has Ileana D'Cruz confirmed that she's married to boyfriend Andrew Kneebone nor have they made any public appearance as husband and wife. Yet, the internet is convinced that the two are happily married and are also expecting their first baby in the next few months. Now that's what many have ended up concluding from Andrew 's latest Insta pic that he posted yesterday and captioned it saying, "@ileana_official having time some sweet time alone, kind of. :)" We are talking about the above pic. Although the pic shows no baby bump or any sign that hints at Ileana being pregnant but the mention of "kind of" in his caption sparked speculations if he is hinting at the arrival of a new member in their family. Like you never know! And then a few online portals also carried source quotes suspecting this pregnancy news to be actually true. However, wait until you check out what Andrew posted this morning.
Ignoring all the pregnancy fuss surrounding his previous picture of Ileana, Andrew has casually gone up to celebrate his and Ileana's massive number of followers on Instagram and has also offered a cake to treat you happy. Here, below is the picture:
https://www.instagram.com/p/Bhq9w6_lI10
That's not all, Andrew has also posted another pic of Ileana showing her middle finger from behind a bottle of Tabasco pepper sauce.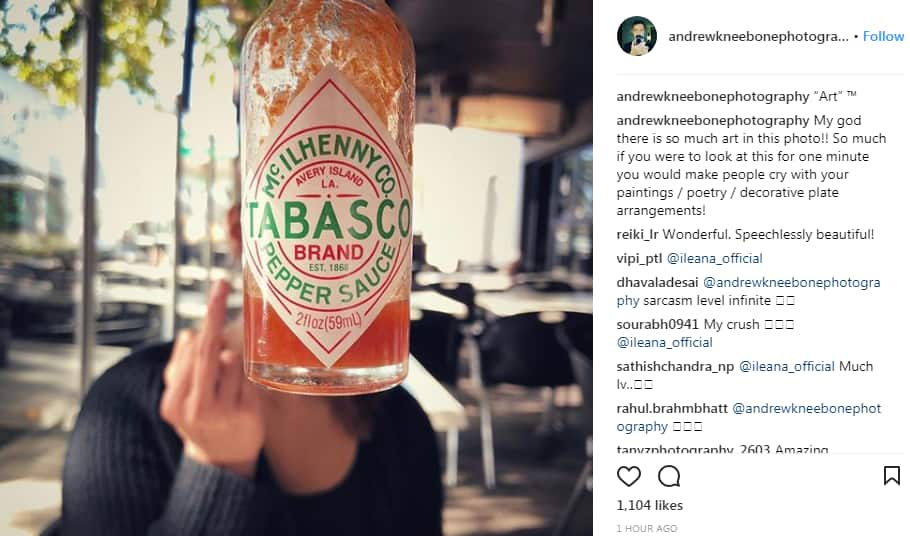 Now, what do you make out of these? Is it a way to rubbish the pregnancy rumours or is it like one of those fitting replies for everyone who is interfering in their personal life? Your guess is as good as ours but one thing is certain, Ileana and Andrew are unfazed by your rumours.